Chart below is LIVE & shows current movement in world GOLD prices
DO NOT WAIT TOO LONG TO DISPOSE OF YOUR UNWANTED GOLD & SILVER!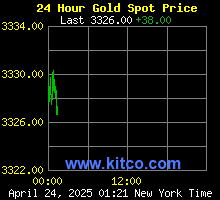 Above is an accurate INDEPENDENT up to date GOLD VALUE chart to shows gold price are down at moment!
A few weeks ago we were PAYING over £1,200 each for Krugerrands NOW we are selling them at £900 each!
People ask if they should SELL or wait? - We do not advise but refer you to the chart & change in gold as above.
(This time last year we paid £250 for a Sovereign but now price has dropped to £200 for basic coins)
EMAIL US NOW FROM THIS BLUE LINK
If you have any items you are thinking of selling
please contact us with a request for our top offer.
There is NO OBLIGATION and we offer a polite and
FULLY CONFIDENTIAL SERVICE.
Please just click on link title above.
THANK YOU!
Thinking Of selling Scrap Gold or silver? Please Click here!
IMPORTANT! press "BACK" key to return to OUR SITE if thinking of selling or for FREE valuation service
we recently paid £3,500 for above necklace - never underestimate your Jewellery value - ASK US for opinion before sale!
DO NOT UNDERVALUE YOUR ITEMS OR RELY ON ONE OPINION - SELL TO US!
email = WANTED@Higham Antiques.com
Please enter here to our "HIGHAM ANTIQUES" new website
phone = 01933 319200 or 315400 or 319000